Learn French > French lessons and exercises > French test #5443


Place des adjectifs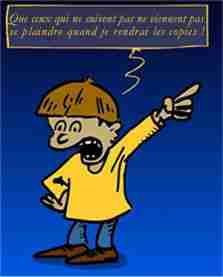 LA PLACE DES ADJECTIFS
THE PLACE OF THE ADJECTIVES

En règle générale, l'adjectif suit le nom
Generally, adjectives follow nouns:
C'est un film drôle. => It's a funny film.
L'ouvrier a besoin d'un outil neuf. =>The workman needs a new tool.

Mais certains adjectifs précèdent le nom:
But some adjectives precede the noun.


Bon good / mauvais bad / grand big – great / petit small- little,-petty
Jeune young / vieux old- aged / long long / beau beautiful / faux false
Gros fat– big / nouveau new / joli nice - beautiful.
Ce film est un bon film. =>This movie is a good movie.


Marie est une jolie fille => Mary is a nice girl.

Quelques adjectifs changent de sens selon qu'ils sont placés avant ou après le nom. Généralement, mis après le nom, ils gardent leur sens littéral alors que placés avant le nom ils prennent un sens figuré.
A few adjectives change meaning when placed before the noun. Generally when they are placed after the noun, they keep their literal meaning and when placed before it, they take on a figurative sense.
Un ancien enseignant = a former teacher
Un enseignant ancien = An aged teacher
Je préfère garder ma propre maison = I prefer to keep my own house
Je préfère garder ma maison propre = I prefer keeping my house clean.
Un grand homme = a great man
Un homme grand = a big man
…. Etc …
Dans l'exercice suivant reconstituez les phrases toutes au sens propre.
In the following exercise, piece the sentences together; (all have a literal meaning).
---
End of the free exercise to learn French: Place des adjectifs
A free French exercise to learn French.
Other French exercises on the same topic : Adjectives | All our lessons and exercises