Learn French > French lessons and exercises > French test #101923


Eating out - Vocabulary
Au restaurant / Eating out
Si on sortait!
What about a restaurant? Si on allait au restaurant?
What about eating out? Ça te dirait d'aller manger en ville?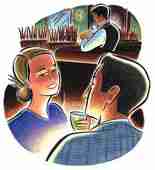 Arriving at the restaurant / Arriver au restaurant:
| | | |
| --- | --- | --- |
| | | |
| The waiter | The waitress | The head waiter |
| Le garçon – Le serveur | La serveuse | Le maître d'hôtel |
Hello, (do you have) a table for two, please? Bonjour, (avez-vous) une table pour deux, s'il vous plaît?

Sure! To have a drink or to eat?
Bien sûr, pour consommer des boissons ou pour dîner?

Can we get a table for lunch?
Peut-on avoir une table pour déjeuner?

We'll have a table free in just a few minutes.
Votre table sera prête d'ici quelques minutes.

Are you still serving lunch?
Vous servez encore le déjeuner?

Yes of course. Would you follow me please.

Oui, bien sûr. Si vous voulez bien me suivre.

We would like to eat if that's possible.

Nous voudrions manger si c'est possible.

Do you have a reservation?
Avez-vous réservé?