Learn French > French lessons and exercises > French test #101923


Eating out - Vocabulary
Au restaurant / Eating out
Si on sortait!
What about a restaurant? Si on allait au restaurant?
What about eating out? Ça te dirait d'aller manger en ville?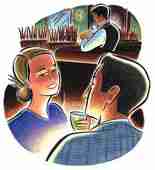 Arriving at the restaurant / Arriver au restaurant:
| | | |
| --- | --- | --- |
| | | |
| The waiter | The waitress | The head waiter |
| Le garçon – Le serveur | La serveuse | Le maître d'hôtel |
Hello, (do you have) a table for two, please? Bonjour, (avez-vous) une table pour deux, s'il vous plaît?

Sure! To have a drink or to eat?
Bien sûr, pour consommer des boissons ou pour dîner?

Can we get a table for lunch?
Peut-on avoir une table pour déjeuner?

We'll have a table free in just a few minutes.
Votre table sera prête d'ici quelques minutes.

Are you still serving lunch?
Vous servez encore le déjeuner?

Yes of course. Would you follow me please.

Oui, bien sûr. Si vous voulez bien me suivre.

We would like to eat if that's possible.

Nous voudrions manger si c'est possible.

Do you have a reservation?
Avez-vous réservé?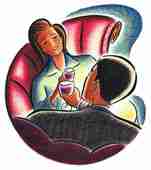 Before the meal / Avant le repas:
Drinks : wine -water

Aperitif / cocktail

The wine list

Les boissons : vin - eau

L'apéritif

La carte des vins

The menu

Starter /appetizer / first course

The dish of the day

Today's special

La carte

Les entrées

Le plat du jour

Main course

The garnish

The dessert / sweets

Le plat principal

La garniture en accompagnement

Le dessert
Can we have the menu, please?
Pouvez-vous nous apporter le menu?

Be right with you.
J'arrive tout de suite.

Can we order?
Peut-on vous donner la commande?

Would you like something to drink first?
Vous désirez un apéritif?

Does this meat come with anything?
Quel est l'accompagnement pour cette viande?

Yes, with a side salad.
Oui, avec de la salade.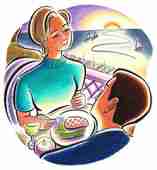 After the meal / Après le repas:
| | | |
| --- | --- | --- |
| | | |
| The bill (uk) | The check (us) | The tip |
| L'addition | L'addition | Le pourboire |
Could I have the bill/check please?
Puis-je avoir la note s'il vous plaît?

It's my treat! / I am treating you!
C'est moi qui t'invite

It's on me!
C'est pour moi !

Let me pick this up.
Laisse-moi t'inviter (= laisse-moi payer).

Twitter Share
French exercise "Eating out - Vocabulary" created by bridg with The test builder
Click here to see the current stats of this French test



Please log in to save your progress.
---
End of the free exercise to learn French: Eating out - Vocabulary
A free French exercise to learn French.
Other French exercises on the same topics :
Speaking
|
Food
|
All our lessons and exercises