Learn French > French lessons and exercises > French test #111583


Apocopes
Cette vidéo n'a pas de son.
Dans les mots apocopés le o final est fréquent, parfois lorsqu'il n'existe pas on l'ajoute.
apéro
apéritif
dico
dictionnaire
intello
intellectuel (n. et adj.)
mécano
mécanicien
véto
vétérinaire

Le problème du pluriel ne semble pas vraiment résolu pour de tels mots.

En général un nom apocopé prend la marque du pluriel lorsqu'il est devenu un mot
de la langue courante.

Cela ne veut pas dire qu'il se trouve dans tous les dictionnaires.


La brigade des stups
John prépare des décas.
Comment éviter les pubs
intempestives sur internet ?

Les vieilles télés seront
obsolètes en 2016


stupéfiants


décaféinés


publicités

télévisions

En ce qui concerne les adjectifs, il n'y a pas de règle précise.

Voici le résultat de mes recherches.

Sont invariables :

bio
biologique
extra
extraordinaire
fluo
fluorescent
météo
météorologique
pro
professionnel
des produits bio
des fromages extra
des crayons fluo
les prévisions météo
Prennent la marque du pluriel :
accro
accroché
fana
fanatique
intello
intellectuel
sympa
sympathique
Ils sont accros au tabac.

Mes amis sont
fanas de jazz.

J'ai des voisins sympas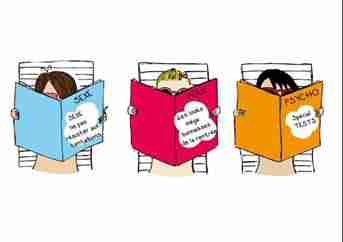 Des ados intellos

Ecrivez le mot en entier à côté du mot entre parenthèses. Faites attention aux pluriels.



🎬 Help: how to see videos





Twitter Share
French exercise "Apocopes" created by lili73 with The test builder. [More lessons & exercises from lili73]
Click here to see the current stats of this French test



Please log in to save your progress.
---
End of the free exercise to learn French: Apocopes
A free French exercise to learn French.
Other French exercises on the same topics : How words are built | Find the word | All our lessons and exercises