Learn French > French lessons and exercises > French test #115995


Pronoms personnels toniques
Les pronoms personnels toniques ou dits renforcés remplacent un nom ou un autre pronom et peuvent être séparés du verbe.
Leurs formes :


Pronoms sujets
Pronoms toniques
Je
Moi
Tu
Toi / vous de politesse
Il / elle
Lui / elle
Nous
Nous
Vous
Vous
Ils / elles
Eux / elles

On (les gens)

On (nous)

Soi

Nous
Le pronom tonique...
- insiste sur l'identité en renforçant un nom ou un pronom.
Moi, j'adore le cinéma.
Le pronom "moi" renforce le pronom sujet "je".


- souligne un contraste, une opposition.
Il aime le sport alors que sa femme, elle, préfère regarder la télévision.


- remplace un pronom sujet quand le verbe est sous-entendu.
Qui a cassé ce vase ? Moi. (sous-entendu : je l'ai cassé).

- s'utilise après :
-> les prépositions : à, avec, chez, de, entre, par, pour... Je pense à mes parents ---> Je pense à eux.
-> l'adjectif indéfini "même". Moi-même, je suis surprise du résultat.
-> après "c'est", "ce sont" : Ce sont eux qui arrivent.
-> après les conjonctions de coordination : et, ni, ou : Ni vous ni moi ne sommes responsables.
-> devant un verbe à l'infinitif : Vous ! Conduire dans votre état, ce n'est pas prudent !
-> après le "que" de comparaison : Elle est plus futée que lui !
-> à l'impératif avec les pronoms moi, toi, nous, vous : Tais-toi et mange !
Leurs fonctions :
- Sujet : Elle, elle n'a pas voulu témoigner.
- Attribut : C'est lui le coupable.
- Complément d'objet direct : Je les crois, eux !
- Complément d'objet indirect : À vous, il a toujours obéi.
- Complément circonstanciel : Nous sommes invités chez eux.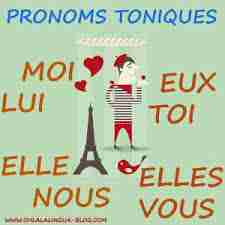 ---
EXERCICE :
Voici des phrases dans lesquelles vous devez trouver le pronom tonique qui manque.

Twitter Share
French exercise "Pronoms personnels toniques" created by eos17 with The test builder. [More lessons & exercises from eos17]
Click here to see the current stats of this French test



Please log in to save your progress.
---
End of the free exercise to learn French: Pronoms personnels toniques
A free French exercise to learn French.
Other French exercises on the same topic : Pronouns | All our lessons and exercises