Learn French > French lessons and exercises > French test #117897


Fruits et légumes
« Avec un fruitier dans le jardin, la tarte n'est jamais loin. »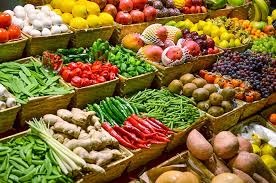 Les fruits et les légumes sont des cadeaux de la nature.
Au marché de mon village, en cette saison, les couleurs abondent. Fruits et légumes garnissent les étals dans un mélange impressionnant de couleurs et de senteurs.
À défaut de pouvoir en dresser la liste complète, j'ai particulièrement noté les salades diverses, les petits concombres libanais, les aubergines aux couleurs variées allant du blanc ivoire, jaune, vert au pourpre violacé... et bien d'autres fruits et légumes.
Mais j'ajouterai quand même les étals chargés d'agrumes où se côtoient les mandarines, les citrons, les oranges à chair, à jus, sanguines, les oranges Navels, les limes douces et acides, les bergamotes et les pamplemousses.


a) La plupart des arbres fruitiers ont des noms qui se terminent par :
- « -ier », comme : l'amandier, le carambolier, le cerisier, le châtaignier, le prunier, le pommier...
- ou « -er », comme : le pêcher, l'oranger, le fromager, le noyer...

b) Ces noms sont généralement du genre masculin.
Exemple :
Je me suis bien régalé avec la pomme du pommier.

c) Le lieu destiné à la culture est du genre féminin. Le nom se termine souvent par « -raie » :
une oliveraie, une cocoteraie, une palmeraie...
Exemple :
Pour une oliveraie exemplaire, il faut un terrain bien exposé, rocailleux, pas trop lourd ni humide.


| | | |
| --- | --- | --- |
| Fruits et légumes | Plantes, arbustes ou arbres | Plantations ou champs de culture |
| Une olive | Un olivier | olivaie ou oliveraie ou olivette |
| Un argan | Un arganier | Une arganeraie |
| Le raisin | La vigne | Un vignoble |
| Un avocat | Un avocatier | Une avocateraie |
| Le bambou | Le bambou | Une bambouseraie |
| Une asperge | Une asperge | Une aspergeraie ou aspergière |
| un cactus ou une figue de Barbarie | Le cactus ou le figuier de Barbarie | Une cactuseraie |
| Une fève | La fève | Une favière |
| Une figue | un figuier | Une figueraie ou une figuerie |
---

👨‍🎓 EXERCICE / Ecrire le nom du fruit - si vous avez un peu de mal, on vous donne un indice dans la case grise à la fin de la question.

Twitter Share
French exercise "Fruits et légumes" created by salouajet with The test builder. [More lessons & exercises from salouajet]
Click here to see the current stats of this French test



Please log in to save your progress.
---
End of the free exercise to learn French: Fruits et légumes
A free French exercise to learn French.
Other French exercises on the same topic : Food | All our lessons and exercises