Learn French > French lessons and exercises > French test #26039


Car - Vocabulary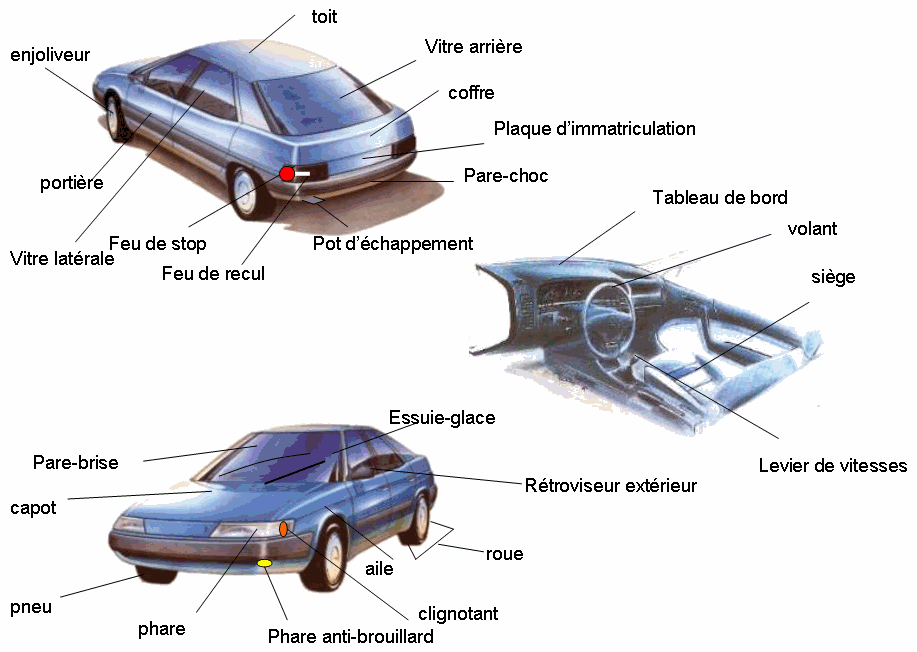 | | | | | |
| --- | --- | --- | --- | --- |
| Accelerator | Accélérateur | | Indicator | Clignotant |
| Back seat | Siège arrière | | Jack | Crick |
| Battery | Batterie | | Lights | Phares |
| Body | Carrosserie | | Lock | Serrure |
| Bonnet | Capot | | Neutral | Point mort |
| Boot | Coffre | | Oil gauge | Jauge d'huile |
| Brake | Frein | | Pedal | Pédale |
| Brake lights | Feux de stop | | Petrol cap | Bouchon d'essence |
| Bumper | Pare-choc | | Petrol gauge | Jauge d'essence |
| Car radio | Autoradio | | Petrol tank | Réservoir d'essence |
| Carburetor | Carburateur | | Radiator | Radiateur |
| Chassis | Châssis | | Rear lights | Feux arrière |
| Choke | Starter | | Rearview mirror | Rétroviseur central |
| Clutch | Embrayage | | Roof rack | Galerie |
| Dashboard | Tableau de bord | | Seat belt | Ceinture de sécurité |
| Doors | Portières | | Sidelights | Feux de position |
| Engine | Moteur | | Spare part | Pièces détachées |
| Exhaust (pipe) | Pot d'échappement | | Spare wheel | Roue de secours |
| Fan belt | Courroie de ventilateur | | Spark plug | Bougie |
| Fog lamp | Phare antibrouillard | | Speedometer | Compteur de vitesse |
| Front seat | Siège avant | | Steering wheel | Volant |
| Gearbox | Boîte de vitesses | | Tire | pneu |
| Gears | Vitesses | | Warning lights | Feux de détresse |
| Handbrake | Frein à main | | Wheel | Roue |
| Heating | Chauffage | | Window | Vitre |
| Horn | Klaxon | | Windscreen | Pare-brise |
| Hub-cap | Enjoliveur | | Windscreen wiper | Essuie-glace |
| Headlights | Feux de croisement | | Wing mirror | Rétroviseur latéral |
| Ignition | Allumage | | | |

La bande-son vous donne la prononciation des mots ci-dessus, accompagnés ou non de l'article.


Twitter Share
French exercise "Car - Vocabulary" created by bridg with The test builder. [More lessons & exercises from bridg]
Click here to see the current stats of this French test



Please log in to save your progress.
---
End of the free exercise to learn French: Car - Vocabulary
A free French exercise to learn French.
Other French exercises on the same topics : Find the word | Cars | All our lessons and exercises