Learn French > French lessons and exercises > French test #3723


Mourir pour des idées - Georges Brassens
Georges Brassens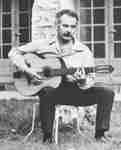 Georges Brassens est un auteur-compositeur et interprète français né le 22 octobre 1921 à Sète et mort le 29 octobre 1981 à Saint Gély du Fesc. Il passa son enfance dans le Midi de la France. L'un de ses professeurs, découvrant son don pour la poésie, l'encouragea à écrire. Il arriva à Paris en 1940, et devint le pensionnaire pour une vingtaine d'années d'un couple auquel il dédiera des chansons, comme 'La Jeanne' et 'Chanson pour l'Auvergnat'. Il publia son premier recueil de poèmes en 1940. Durant la Deuxième Guerre mondiale, il fut envoyé en Allemagne dans le cadre du Service du Travail Obligatoire où il fit la connaissance de l'homme qui devint son secrétaire. Il se présenta alors devant un public avec les chansons qu'il avait écrites. Il déserta lors d'une permission et se cacha chez 'la Jeanne' jusqu'à la fin de la guerre.
En 1946, Georges Brassens adhéra à la Fédération Anarchiste et il écrivit des articles dans 'Le Libertaire', journal devenu aujourd'hui 'Le Monde Littéraire', sous divers pseudonymes, comme 'Géo' ou 'Cédille. Il tenta également de lancer un journal anarchiste. Georges Brassens chanta alors ses premières chansons lors de galas anarchistes. Ses relations amoureuses furent tumultueuses, lui inspirant des chansons comme 'Putain de toi'. Il rencontra la femme de sa vie, d'origine estonienne, dès 1947, mais il ne l'épousa jamais. Son égérie lui inspira de nombreuses chansons comme 'La non demande en mariage' ou 'Je me suis fait tout petit'. Il se présente alors en public dans des cabarets, sans rencontrer de succès. En 1952, il est finalement engagé dans un cabaret et aussi pour accompagner Patachou en tournée, et ce fut alors le succès.
Il écrivit également un roman, 'La Tour des miracles', en 1953. Il fit également une apparition dans un film de René Clair, 'Porte des Lilas, en 1957, où il jouait le rôle de 'l'artiste'. Tout au long de sa carrière, Brassens mit en chansons et interpréta de nombreux poèmes, et notamment de Verlaine, Aragon, Paul Fort, Victor Hugo, etc. Atteint d'un cancer, il mourut à Saint Gély du Fesc chez un ami médecin. Il fut inhumé à Sète dans le cimetière appelé 'le ramassis'.
---
Remettez ces couplets, extraits de 'Mourir pour des idées', dans le bon ordre.
Merci de votre participation.

Il manque la phrase 'Depuis tant de grands soirs que tant de têtes tombent.' dans l'enregistrement et dans le test ci-dessous. Celle-ci devrait apparaître à l'emplacement des crochets. Désolé pour ce souci.





Twitter Share
French exercise "Mourir pour des idées - Georges Brassens" created by anonyme with The test builder
Click here to see the current stats of this French test



Please log in to save your progress.
---
End of the free exercise to learn French: Mourir pour des idées - Georges Brassens
A free French exercise to learn French.
Other French exercises on the same topic : Music | All our lessons and exercises