Learn French > French lessons and exercises > French test #81103


Etymologie grecque et latine
L'étymologie, est la science de l'origine des mots.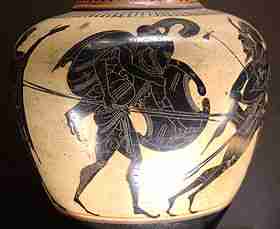 La plupart des mots français ont une origine latine ou grecque.
Les autres mots peuvent provenir de diverses langues comme :
l'anglais : nurse, badge, barman, goal, sponsor, ...
l'allemand : handball, hutte, leitmotiv, schnaps, ...
l'italien : crescendo, ghetto, mezzanine, ...
l'américain: klaxon, base-ball, ...

l'arabe: alcool, harem, ...
...
Voici quelques mots latins et grecs qui sont utilisés dans le test ci-dessous :

nox, noctis = la nuit
ambulare = se promener
vita = la vie
somnus = le sommeil
ferre = porter
dominus = le maître
equus = le cheval
aqua = l'eau
ducere = conduire
curriculum = le parcours, la course, la carrière

hippos = le cheval
potamos = la rivière
philos = l'ami
orthos = droit, juste
graphein = écrire
kallos = la beauté
gonia = l'angle
poly = plusieurs
theos = le dieu
thermos = la chaleur
metron = la mesure
Dans le test ci-dessous, il s'agit de retrouver le mot français à partir de la définition étymologique donnée.
Bonne chance !


Twitter Share
French exercise "Etymologie grecque et latine" created by bayd with The test builder
Click here to see the current stats of this French test



Please log in to save your progress.
---
End of the free exercise to learn French: Etymologie grecque et latine
A free French exercise to learn French.
Other French exercises on the same topic :
How words are built
|
All our lessons and exercises