Learn French > French lessons and exercises > French test #93942


Compréhension : Petit chien doué
PETIT CHIEN DOUE (histoire vraie)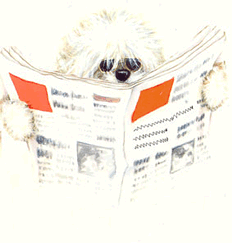 J'ai eu plusieurs petits chiens dans ma vie : tous ont été très affectueux et très attachants...
Ces petites bêtes qui méritent bien leur qualificatif de 'fidèles' n'ont jamais failli, jamais trahi, jamais menti !
Mais le plus doué de tous fut Bigoudi, un petit Coton de Tuléar semblable à celui qui regarde les images dans le journal ci-dessus.
Un jour, je regardais la télévision : lui aussi... Tout à coup, n'est-il pas venu me lécher affectueusement un genou douloureux?
Comment savait-il que je souffrais de rhumatismes précisément à cet endroit-là?
Une autre fois, au retour d'une promenade à la campagne, nous fûmes surpris par la pluie et il nous fallut marcher dans la boue.
A peine fûmes-nous de retour à la maison que ce petit phénomène se précipita vers la salle de bains
et bondit tout seul dans la baignoire pour nous faire comprendre de quoi il avait besoin !
Mais je n'oublierai jamais le jour où je l'ai emmené pour la première fois à la plage.
Il avait seulement trois mois et n'avait jamais vu la mer...
Les Cotons de Tulear sont des chiens originaires du Tibet : donc, logiquement, les ancêtres de Bigoudi ont tous connu la neige,
mais n'ont jamais pu connaître l'existence des mers et des océans...
C'est pour cette raison que j'appréhendais le premier contact de mon petit chiot avec la Méditerranée.
Je le pris donc dans mes bras pour le rassurer...
Mais, à peine eus-je commencé à marcher dans l'eau que ce chien extraordinaire, au lieu de se débattre,
commença à agiter tranquillement les pattes comme s'il savait déjà qu'il fallait nager,
alors que la surface de l'eau était encore à cinquante centimètres sous lui !
Quand je l'eus déposé dans l'élément liquide, il en fut satisfait et nagea naturellement comme s'il en avait l'habitude.
Il ne fut même pas surpris; c'est moi qui le fus... Et heureux, émerveillé !...

Les exploits de ce petit chien vous ont intéressés ?
Répondez maintenant à quelques questions faciles!...

Twitter Share
French exercise "Compréhension : Petit chien doué" created by fiofio1 with The test builder. [More lessons & exercises from fiofio1]
Click here to see the current stats of this French test



Please log in to save your progress.
---
End of the free exercise to learn French: Compréhension : Petit chien doué
A free French exercise to learn French.
Other French exercises on the same topic : Animals | All our lessons and exercises